About us – Company Profile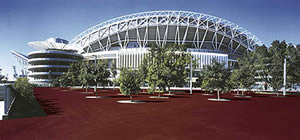 About Us
Welcome to Court Craft, a pioneering force in the world of sports infrastructure and outdoor environments. Established in 1977 and under current management since 1986, Court Craft has earned its reputation as a leading expert in building exceptional indoor and outdoor sporting installations, as well as crafting inviting outdoor spaces that inspire communities to thrive.
Our Expertise: At Court Craft, our expertise encompasses a diverse range of installations catering to various sports and recreational needs. From meticulously engineered hockey fields and versatile tennis courts to dynamic school ground constructions and precisely surfaced netball and basketball courts, we craft environments that foster excellence and enjoyment. Our capabilities extend to soccer fields, cricket pitches, golf courses, playgrounds and volleyball courts. We handle all facets of a project journey, from meticulous planning and council submissions to constructing state-of-the-art facilities, clubhouses, amenities, innovative lighting systems, and thoughtful landscaping.
Our Commitment: We are committed to providing unparalleled service to all our clients. Backed by a highly competent and well-trained workforce, our seasoned senior management boasts years of experience in sports facility construction. Our meticulous selection of suppliers ensures that our projects consistently meet and exceed professional standards of construction and surfacing, setting new benchmarks for excellence.
Pioneering Partnerships: Court Craft has proudly partnered with Plexipave for over two decades as an installation agent. This partnership has enabled us to bring elite surfaces to life, including the renowned Plexicushion surface at Sydney Olympic Park Tennis Centre. Our collaboration with Netball resulted in the creation of a specialist outdoor Plexipave Netball Surface, the preferred choice of Netball NSW and Netball QLD.
Championing Netball Excellence: We are honoured to be the Netball Queensland Official Supplier and a Major Partner of Netball NSW. Our commitment to netball excellence is steadfast as we work alongside these esteemed organisations to elevate the game and empower athletes.
Diverse Clientele, Lasting Impact: Our clients span a diverse spectrum, including universities, colleges, schools, councils, sporting associations, and commercial enterprises. This widespread acceptance has propelled us into one of Australia's leading court builders, with a remarkable track record of over 4,000 courts and playing areas installed.
At Court Craft, we don't just build sports facilities – we construct dreams, aspirations, and thriving communities. Join us in our journey to create enduring spaces that inspire excellence, camaraderie, and a love for sports.
Generally, we supply the following services:
Sporting facility construction and maintenance
Landscaping and fencing
Asphalt and concrete services for car parks, pathways, courtyards etc.
Supply and installation of sporting equipment
At Court Craft, our paramount focus lies in fostering strong customer relationships and upholding a service philosophy that underscores our dedication to every client. Guided by an exceptionally skilled and experienced workforce, our proficiency in sports facility construction and general landscaping is unmatched. The synergy between our stable team, seasoned senior management, and thoughtfully chosen suppliers ensures a consistent and professional standard of construction and surfacing across all projects. At the heart of our ethos is an unyielding commitment to delivering excellence, fostering enduring partnerships, and creating environments that stand as testaments to our pursuit of perfection.
Our Services
Court Craft provides design, construction & refurbishment services for the following client types: